ENGL 567: Half-Sleeping through Movies On Sunday Afternoons
Dr. Greenlaw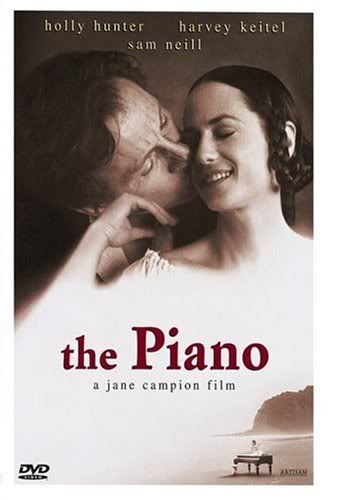 The Piano (1993)
Writer and Director: Jane Campion
Cinematography: Stuart Dryburgh
Editing: Veronika Jenet
Music: Michael Nyman
Cast: Holly Hunter (Ada); Harvey Keitel (Baines); Sam Neill (Stewart); Anna Paquin (Flora); Kerry Walker (Aunt Morag); Geneviève Lemon (Nessie); Tungia Baker (Hira); Ian Mune (Reverend); Peter Dennett (Head Seaman); Te Whatanui Skipwith (Chief Nihe)
DISCUSSION QUESTIONS ABOUT CHARACTER AND PLOT
1) Many critics describe Holly Hunter's character of Ada as intuitively feminist. How do you reconcile that with the fact that she doesn't speak for most of the movie. I mean, she barely even makes facial expressions. I know she's dealing with a lot of shit but doesn't she seems like kind of a frosty box?
2) Anna Paquin, barely 11 years old, won an academy award for her role as Ada's daughter, Flora. Although she did a passable job, are child actors ever really good? Don't they always seem kind of fake? Can you argue that the Academy Award for best supporting actress really have gone to Rosie Perez for her work in
Fearless
?
3) How did you feel upon seeing Baines' (Harvey Keitel) bare buttocks? How did your feelings change when you realized you would also be seeing his penis?
4) Consider the scene at the climax of the movie, where Stewart chops off his wife's finger. Wasn't that part cool? Why couldn't the whole movie be like that?
5) WHY WOULD SHE CHOOSE HARVEY KEITEL OVER SAM NEILL? HAS ADA MCGRATH EVEN SEEN JURASSIC PARK?
DISCUSSION QUESTIONS ABOUT SYMBOL AND THEME
1) Sometimes when watching a movie we don't particularly enjoy, we are overtaken by a masochistic urge to finish it rather then abandoning the viewing experience halfway through. What inspired you to finish the movie? Where you encouraged by extenuating circumstances (snacks, a particularly comfortable pillow, mild wine hangover)?
2) Is there a certain mount of prior knowledge the viewer should be expected to bring to the viewing experience? Or is it reasonable for the viewer to be 45 minutes into the film before realizing it takes place in New Zealand?
3) While filmed in English,
The Piano
is still technically a foreign film. Does that make it permissible to alter the viewing experience by turning on the subtitles? How thick and/or mumbly do the actor's accents have to be before the use of subtitles is validated?
4) What is the deal with the piano? I mean, seriously. Who cares?
5) In the coda of the film, Ada is revealed to be wearing a prosthetic metal finger in place of the one that was chopped off. Was your first thought "F yeah Terminator"? Did this reaction make you rethink your decision to watch a costume drama in place of the sci-fi you've been shoveling in your eyeholes all summer?